Tianliao Moon World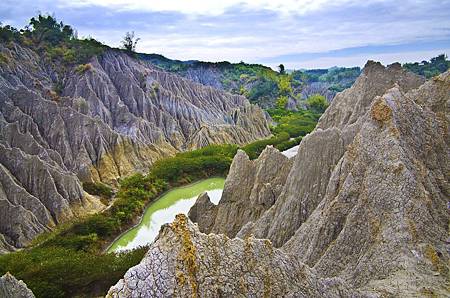 Tianliao Moon World is a tract of barren land between Chongde Village and Gutin Village of Tianliao District. It has a dreary and desolate beauty of desert and is famous for its similarity to the landscape of the Moon surface.
This queer terrain is called "badlands" in geography an adverse landscape caused by the strong erosion of rain and streams over the years due to "rejuvenation" of the earth's crust. The Tianliao Moon World sits in the valley of a small tributary of Erren River and used to have a dam for sediment storage to store water in the rain season. The sight of it was called "yue-jing-nong-tang" (Farm Pond on the Moon). However, the dam (farm pond) has been washed away over approximately a decade of time with the continuous scour of rain. Today, nothing but total desolation is what is left there.
Apart from the eye-catching Chinese-style "Lan-Yue-Lou" (Moon Take Multistory Building) standing in the proximity of the Moon World for visitors to rest and appreciate the sight, there are also Rihyue Temple, Fongyue Temple, Nihuo Spring (fire on mud spring), peculiar scenery, and a camping area for visitors to go.
Information: http://eng.taiwan.net.tw/m1.aspx?sNo=0002121
Photo: Google
Transportation
Nat'l Hwy 3 → Exit at the Tianliao Interchange → Prov. Hwy 28 → Tianliao Moon World
Public
wBy Air:
1. From Taipei International Airport fly to Kaohsiung on Mandarin Airlines.
2. From Hualien Airport fly to Kaohsiung on Mandarin Airlines.
Kaohsiung International Airport
wTHSR:
Take the THSR to Zuoying Station, transfer to the bus.
wBy MRT & Bus:
Take the MRT to Ciaotou Station, then transfer to the bus Red-70 from Exit 2 to Moon World stop.
高雄住宿 世紀旅店
電話(訂房) 專線 TEL : (07) 331-0111
電話傳真 Fax : (07) 331-0112
centruyhotel.reception@gmail.com
Follow Us 關注世紀旅店 加世紀旅店好友

歡迎按讚世紀旅店 Facebook