Fo Gunag Mountain(Fo Gunag Shan)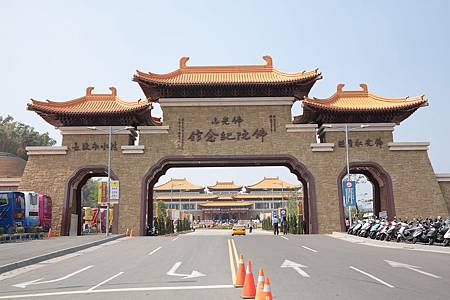 At the north-east of Dashu Township in Kaohsiung county on the left bank of the Gaoping (Kaoping) river, a famous tourist destination is located. Here you will find the Buddhist center of South Taiwan, established my Master Hsing Yun and his disciples. The architecture of the temples is very characteristic, and at the southeastern side of Fo Gunag Mountain (Gunag Shan) Monastery the most prominent landmark of the region is found: a huge golden statue of Buddha Amitaabha which measures some 120 meters. The main square is surrounded by 480 standing Buddha's, while water and mountains form the magnificent scenery. The main structures consist of four temples, namely the Daxiongbao, the Dabei , the Dazhi and the Dashu shrines. The Daxiongbao shrine covers a large area and is the most imposing of all four shrines. The main god of worship here is Sakyamuni, while statues of Amitaabha is placed on the left and right sides. More than 10,000 Guanyin statues surround the temple. Buddha statues and lanterns of light rest in the 14,800 holes in the walls of the four shrines. The site counts more than a thousand Buddha statues, large and small.
Information: http://eng.taiwan.net.tw/m1.aspx?sNo=0002121
Photo: Google
Transportation
Nat'l Hwy 3 → Yanchao SIC. (toward Qi Mountain (Qishan) and Kaohsiung Interchange) → Nat'l Hwy 10 → Lingkou Interchange (exit at the Qi Mountain (Qishan) Dashu interchange) → Provincial Highway 21 → Xingtian Rd. → Fo Gunag Mountain (Fo Gunag Shan) Monastery
Public
wBy Air:
1. From Taipei International Airport fly to Kaohsiung on Mandarin Airlines.
2. From Hualien Airport fly to Kaohsiung on Mandarin Airlines.
Kaohsiung International Airport
wTHSR: Take the THSR to Zuoying Station, transfer to the bus.
wBus: From the bus station in front of the Kaohsiung Railway Station, take the direct Kaohsiung Bus to Fo Gunag Shan Monastery.
高雄住宿 世紀旅店
電話(訂房) 專線 TEL : (07) 331-0111
電話傳真 Fax : (07) 331-0112
centruyhotel.reception@gmail.com
Follow Us 關注世紀旅店 加世紀旅店好友

歡迎按讚世紀旅店 Facebook