National Science and Technology Museum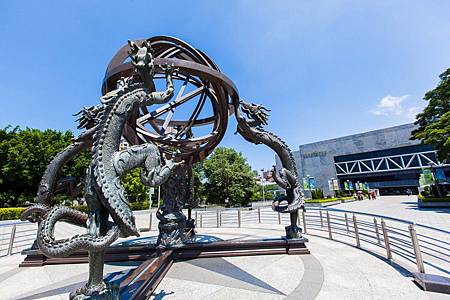 National Science and Technology Museum opened in November 1997. The museum is not only a prominent organization of social education, it is also the first and largest museum of applied science in Taiwan. It occupies a base area of 19 hectares, and is divided north and south by Jiuru Road. The museum comprises several permanent galleries and three temporary galleries as well as the IMAX 3D theater.
Exhibits focus on the historical, current and future development of technology as they relate to the industry and economic development of Taiwan. Exhibits introduce principles, procedures and applications of technology, and their influences on society. Many of the exhibits also provide the visitors with fun and knowledge not only through observation, but also through hands-on experience. The museum aims to enlighten visitors through the wonders of technology.
The museum has embarked upon a commitment to provide a wide variety of technological education activities. It offers an alternative learning environment where participants can learn about technological life in both serious and playful ways.
Information: http://eng.taiwan.net.tw/m1.aspx?sNo=0002121
Photo: Google
Transportation
Nat'l Hwy 1 → Kaohsiung Interchange (Take the exit toward Jiuru Rd.) → Jiuru 1st Rd. → National Science and Technology Museum
Public
wTHSR: Take the THSR to Zuoying Station, transfer to the MRT, bus or taxi.
wMRT: Take the MRT to Kaohsiung Main Ststion, continue by Bus No.60, 73 or Red 28 to the museum.
wTrain: Get off at Kaohsiung Railway Station. Then take Bus No. 60, 73 or Red 28 to the museum.
wBy Air:
1. From Taipei International Airport fly to Kaohsiung on Mandarin Airlines.
2. From Hualien Airport fly to Kaohsiung on Mandarin Airlines.
Kaohsiung International Airport
高雄住宿 世紀旅店
電話(訂房) 專線 TEL : (07) 331-0111
電話傳真 Fax : (07) 331-0112
centruyhotel.reception@gmail.com
Follow Us 關注世紀旅店 加世紀旅店好友

歡迎按讚世紀旅店 Facebook