kaohsiung Exhibition Center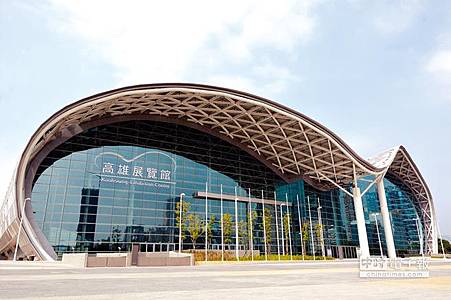 Asia's Dynamic MICE Venue
The recently completed Kaohsiung Exhibition Center (KEC) is the first multifunctional waterfront venue for exhibitions, international conferences, association meetings, banquets, concerts, product launches and outdoor events in Taiwan. This central government investment is targeted at accelerating the development of the MICE industry in the midst of the important markets and industrial clusters of South Taiwan. Pent up demand for a venue of this type and size is overwhelming!
Thanks to strong investment in its New Bay Area, Kaohsiung, Taiwan's 2nd largest city and premier trading port, is rapidly transforming into a vital city destination in a delightful subtropical setting, making it a fantastic choice for combining business and leisure in Asia. It is easily reachable with direct flights from over 40 Asian cities and high speed rail from North Taiwan: less than 1 hour and 30 minutes from Taipei.
An iconic green building with the latest in meeting technology, managed by Taiwan's leading MICE company and its international, customer-oriented service team is the ideal venue for a trouble-free and successful event.
With over 25,000 m2 of indoor and outdoor exhibition space and large variety of conference rooms which accommodate anywhere from 20 to 2000 people, with a capacity of up to 4,000 attendees at one time, KEC is the premier multi-purpose venue in Taiwan, ideal for hybrid events.
Information: http://www.kecc.com.tw/tw/
Photo: Google
Transportation
Northwards:
Highway No.1 to Zhongzheng Road Exit → Zhongzheng Road → Turn left onto Zhonghua Road → Turn right onto Siwei Road → Turn left onto Chenggong Road → Arrive
Southwards:
Highway No.1 to Kaohsiung End/Zhongshan Road Exit, make right → Zhongshan Road → Turn left onto Xinguang Road → Turn left onto Chenggong 2nd Road → Arrive
Public
wHigh Speed Rail
Terminal in Kaohsiung is Zuoying Station:20-minute taxi ride to KEC, or take the Kaohsiung Rapid Transit to Sanduo Shopping District which is then a 10-minute walk to KEC.
wMRT: Sanduo Shopping District Station is the closest to KEC. It's a 10-minute walk from Exit 2.
wBuses
1. 168
2. Red 16 (Kaohsiung Software Technology Park Sanduo Shopping District Station)
3. 70 (Cianjhen Station Chang Gung Memorial Hospital)
高雄住宿 世紀旅店
電話(訂房) 專線 TEL : (07) 331-0111
電話傳真 Fax : (07) 331-0112
centruyhotel.reception@gmail.com
Follow Us 關注世紀旅店 加世紀旅店好友

歡迎按讚世紀旅店 Facebook