E-Da Theme Park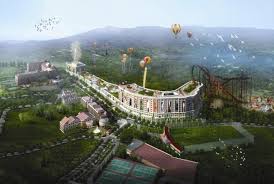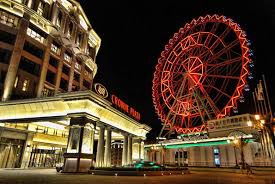 An integration of Greek-style environment consisting of major attractions like The ancient Greek temple, The blue and white city of Santorini with an imagination of being at the Aegean Sea and The Trojan castle.
It has a pristine atmosphere with a touch of breathtaking elements.
It has the largest entertainment theatre and the biggest indoor recreation center in Taiwan.
Enjoy the country's first roller coaster ride in a complete pitch-black surrounding, watch the charming magical water show, see the soaring erupting volcano show and the spectacular view from the biggest ferris wheel in Taiwan.
A place where dreams comes alive. A place of laughter and hope. An exciting adventure that will definitely stimulate your senses.
Information: http://eng.taiwan.net.tw/m1.aspx?sNo=0002121
Photo: Google
Transportation
Nat'l Hwy 3 → Exit at the Yanchao System Interchange → Nat'l Hwy 10 → Exit at the Renwu Interchange → Sec. 3, Shuiguan Rd. → Yida 2nd Rd. → Sec. 1, Xuecheng Rd.
Public
1. THSR Zuoying Station → E-Da Bus to E-Da Theme Park
2. TRA Gangshan, XinZuoying, Nanzi, or Fengshan Station → E-Da Bus to E-Da Theme Park
高雄住宿 世紀旅店
電話(訂房) 專線 TEL : (07) 331-0111
電話傳真 Fax : (07) 331-0112
centruyhotel.reception@gmail.com
Follow Us 關注世紀旅店 加世紀旅店好友

歡迎按讚世紀旅店 Facebook